Geplaatst op 18-07-2023 - Categorie: Sportboat Cup 2023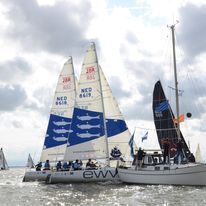 Almost - almost - the single most important question on a proper sailing event: what's for dinner?!
This year, we'll have BBQ and drinks on the saturday afternoon / night. The BBQ price is in the entry fee and therefore free for all participants, and the first drinks are offered to you by our sponsors!
After dinner, we'll kick off the "after BBQ party" in our Yachtclub (but this is our little surprise so we can't share too much details on that yet).
We do know that the first drinks of the after party will also be sponsored, so your social program for the saterday evening is set!
See you all during the Enkhuizen Sportboat Cup, but first have a good summer break the upcoming weeks!!
The Enkhuizen Sportboat Cup Committee.